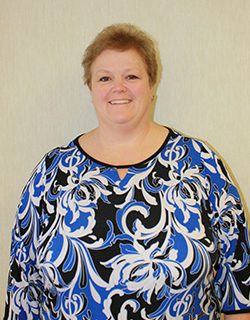 Christy Zimmer, MSPT
Rehab Manager / Physical Therapist
I am a Central Montana native who graduated from Moore High School in 1987.  My love of high school sports and helping people led me to pursue an education at Pacific University.  While at Pacific University, I also played women's basketball and was inducted into the Hall of Fame for basketball in 2008.  Upon graduation from Pacific University in 1995, I traveled as a Physical Therapist on the East Coast for 3 ½ years working in Acute Care, Long term care, inpatient rehab, outpatient therapy, pediatrics, transitional care unit, and Home Health.  I then moved to Georgia where I worked in an outpatient clinic for 3 years.  I also had the pleasure of working with the high school football team, team physician, and athletic trainer during games and post-game clinics.  The highlight was watching the team play in the Georgia Dome in Atlanta.  I then moved back to Lewistown in 2001 to be closer to family and raise my three children in this great community.  I initially worked at CMMC in outpatient, acute care, home health, and long term care.  I transitioned to Rehab Coordinator in 2007, and then my current position of Rehab Manager and outpatient PT in 2008.  I am very passionate about treating patients of all ages with a variety of diagnosis.  I especially enjoy helping an athlete return to sport.  I emphasize a hands-on approach in conjunction with exercise.  I believe in providing excellent quality of care to our patients in order to help them recover to their fullest potential and enhance their quality of life.  In my free time, I love being a mom and watching my three children with their various sports and activities.  I also enjoy playing sports, boating/tubing, drawing and painting, fishing, watching movies, and spending time with family and friends.
Education:  B.S. degree in Biology with a minor in Psychology, Pacific University; Forest Grove, OR (1992) and Masters of Science in Physical Therapy, Pacific University; Forest Grove, OR (1995)
Focus:  general orthopedics, functional dry needling, manual therapy, sports medicine, vertigo, and pediatrics.
Specialties: Certified as a Functional Dry Needling specialist through Kinetacore with completion of Level 1, Level 2, and Functional Therapeutics. Certified to perform Functional Movement Screens (FMS), and trained in Selective Functional Movement Assessment (SFMA), and Mobilization with Movement Techniques. Level 2 trained in Craniosacral therapy.  Reiki Master.
Professional affiliations:  American Physical Therapy Association (APTA) and Montana Physical Therapy Associatoin (MAPTA) member for 25 years, special sections member for Orthopedics, Sports Physical Therapy, and Aquatic Physical Therapy.