CMMC Cancer Center Campaign
CMMC in partnership with Leona M. and Harry B. Helmsley Charitable Trust will be bringing to Central Montana a state-of-the art cancer center with medical oncology, radiation oncology, infusions, CT simulator and a linear accelerator.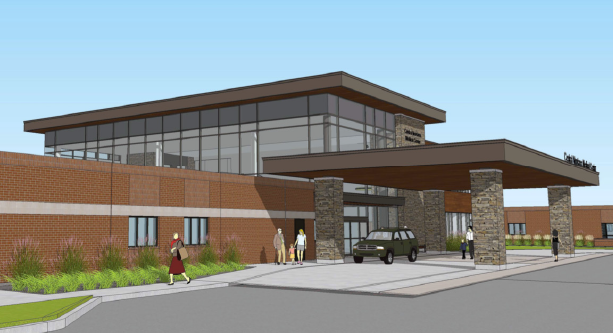 ---

The Cancer Center will bring comprehensive cancer care to Central Montana. One In 3 of us will be diagnosed with cancer in our lifetime. Not the diagnosed? You likely will know someone battling cancer or may well be the caregiver. Cancer affects all of us!
Annually our friends, our family, neighbors travel 165,000 miles for cancer care. 165,000 miles equals 647 times across the state. The Cancer Center will keep them safe, close to home.
---
"There was a time I might have questioned whether this made sense. Having gone through two battles with cancer, I can tell you this cancer center is incredibly important for future cancer patients and their families and also for the economy of Central Montana. To be able to access diagnosis and treatment of cancer in Lewistown instead of having to travel repeatedly to Billings, Great Falls or other cancer centers would truly be a Godsend. My wife and I are grateful that CMMC leadership and staff are taking on this important effort, and we hope people in Central Montana will support it." Dave Byerly Cancer Survivor

---
Since the Central Montana Medical Center (CMMC) was incorporated in 1969 – 53 years ago – the facility, staff, equipment, and services have grown to meet the needs of our Central Montana community. Each year CMMC serves our area through important services ranging from Hospice and Home Health to the Emergency Room, Clinic Services to Physical Therapy, just to name a few.These important services are provided, and the growth of the hospital, is due to YOU. You are the community who loves and invests in this important asset, our hospital.
Central Montana Medical Center is working to provide much- needed additional services to the Central Montana community by building a high-quality, comprehensive Cancer Center.
Through collaboration with the Billings Clinic Cancer Center, patients in Central Montana will soon have access to services presently only available in larger communities, including clinical trials and participation in national research with access to the latest treatments.
It is estimated that cancer patients from Central Montana are traveling 165,000 miles annually to receive cancer care not available in our community. Adding to their challenge of being diagnosed with cancer, they must also take on the financial burden of lodging, meals, travel, and orchestrating out-of-town appointments.
The Leona M. and Harry B. Helmsley Charitable Trust, which has a particular interest in rural healthcare, sees cancer care as a significant need in Central Montana. To demonstrate their commitment to improving healthcare in rural communities, they have given a $9 million dollar gift to CMMC to help build a Cancer Center. The Medical Center Foundation has committed to raising $2 million and the CMMC Governing Board has committed to bridge the gap with additional debt financing. Final project costs are still being determined but are currently estimated to be approximately $16.5 million dollars.
Central Montana Medical Center is excited that after two years of extensive design and planning, the time has come to complete a community capital campaign and bring the Cancer Center project to realization.
The time is now to build a Cancer Center to keep our loved ones comfortable and safe at home, now and for generations to come, while they fight and defeat cancer.
---
"My kids did not know what was going to happen to Mom, so I drove back and forth for my cancer treatments so that I could be home each night to comfort my kids. This Cancer Center makes me so happy. I would not understand the need if I hadn't just experienced the exhausting task of balancing work, mom, wife and cancer patient – but now I am beyond passionate to make this project a reality so others can be at home for their cancer care." Dana Dengal Mother, wife, business owner and cancer survivor
---
Scot Solberg, Chair
Dave Byerly, CO Chair
Corry Arntzen
Cathy Barta
Melissa Bell
Barb Berg
Bob Bjelland
Bret Carpenter
Amy D'Autremont
Karen Durbin
Abby Franks
Gen Geda
Joe Irish
Angie Jenni
Derree Kamp
Joe Kenser
Cody Langbehn
Janine Merrill
Jennifer Saunders
Ashley Senter
Jeff Southworth
Julie Walsh
Ashley White
Tilda Whiteman
Jim Wier
For more information or questions contact your local Medical Center Foundation today:
Foundation Director: Abby Franks
408 Wendell Ave
Lewistown MT 59457
406.535.6309
afranks@cmmccares.com