CMMC's Occupational Therapy team consists of 2 registered therapists (OTR/L) and a Certified Occupational Therapy Assistant (COTA).  When the onset of illness, injury or disability makes routine activities difficult, occupational therapy can help.
CMMC occupational therapists help individuals regain skills necessary for dressing, bathing and feeding themselves. Occupational therapy also helps those who have mobility limitations or who experience vision, memory, attention or problem-solving deficits.
Maintaining the patient's maximum independence and safety in normal activities of daily living is the goal of CMMC occupational therapists.
For more information, you can contact the Occupational Therapy Department at 535-6378.
Our Patients
CMMC occupational therapists understand that when you've been hurt – you don't want to just get better – you want to get back to living your life as safely and quickly as possible.  We assist people of all ages who have the following diagnoses or disorders, not limited to the following:
Autism
Cerebral Palsy
Chronic Obstructive Pulmonary Disease (COPD)
Cognitive and Behavioral Health Conditions
Developmental Disorders
Diabetes
Heart Failure
Multiple Sclerosis
Orthopedic Injuries and Repairs
Parkinson's Disease
Stroke
Traumatic Brain Injury
Services
Our goal and commitment is to provide outstanding outcomes for all types of injury. When you choose a CMMC therapist, you can expect timely, quality outcomes for:
Our Occupational Therapists provide assessment and provision of individual specific manual or power wheelchairs.  We also assess and provide individual specific positioning devices including lap trays/arm troughs, wheelchair pressure reducing cushions or seating systems, lateral supports, reclining wheelchair backs.  OT's assess wheelchair modifications that might improve/increase an individual's independence (e.g. in self-feeding) or interaction within his/her environment.
Include the basic daily tasks of feeding, grooming and hygiene, dressing, toileting and bathing.  OT's assist with the following:
Instruction in adaptive/compensatory techniques
Provision of and training in use of adaptive equipment (AE)
Functional mobility and transfers
Instruction in energy conservation/work simplification techniques; body mechanics to complete ADL safely
Cognitive assessment of an individual's ability to complete ADL and IADL safely and independently in their discharge setting
Therapeutic exercise that will assist in increasing independence
OT's assess the need for/most appropriate adaptive equipment that would increase an individual's independence and/or safety in ADL (Activities of Daily Living/IADL (Instrumental Activities of Daily Living—tasks that are required to live independently in the community such as preparing meals, shopping, managing money, using the telephone, doing housework and taking medications).
May include Bathroom AE: toilet risers, grab bars, bath chair/benches, hand held showers, etc.
Dressing AE: sock aids, reachers, button-hooks, elastic shoelaces, clothing modification, etc.
Feeding AE: weighted and/or built-up handled utensils, plate guards, sippy cups, etc.
Our staff provides personalized Aquatic Therapy and reports the following benefits:
Warmth of water facilitates relaxation and peacefulness as water is same temperature as skin. Pt feels free from personal limitations due to gravity elimination.  Water allows joints to offload weight and allows increased range of motion.
Justification of water.  Individualized program for prevention of injury, impairment, functional limitation/disability that is unachievable on land.  For example; stretches are easier in water than land.
Benefits of Aquatic therapy: The whole body benefits by movement.  Muscles that aren't usually used are used in water in order to maintain balance.  Loss of balance is slowed due to benefits of buoyancy.
Common Precautions and Contraindications not limited to the following:
Open areas of skin
Rash or skin condition
Infectious disease i.e. flu, common cold
Diabetes
Orthostatic hypotension
Information was found from Aquatic Therapy University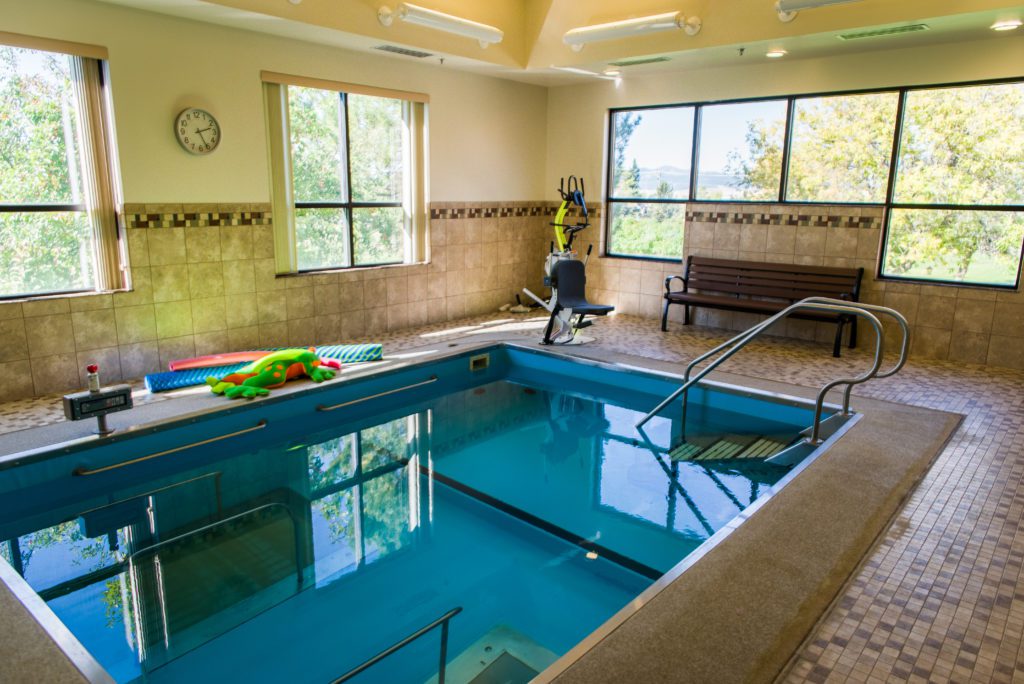 General Medical Rehabilitation
Occupational Therapists address numerous areas of need in geriatrics, including increasing independence in ADL, wheelchair and bed positioning (including pressure relief), splinting for injury or tone, provision of adaptive equipment, Home Safety Evaluations.
Some, but by no means all, hand injuries we work with include: wrist or digit fractures, repetitive stress disorders such as carpal tunnel syndrome or tendonitis, strains or other soft tissue injuries and abnormal tone (e.g. spasticity or flaccidity).
We also provide Splinting with either pre-fabricated or custom made splints to support fractures, orthopedic repairs and abnormal tone.
Hand Therapy may include use of modalities such as heat, cold, functional electrical stimulation or ultrasound to decrease pain and increase mobility in preparation for improving strength and functional motion in order to participate in daily activities.
An Occupational Therapist is able to work in conjunction with physical therapy, licensed social workers, nurses and aides to visit home bound clients and provide therapy in their home. The therapist will typically begin with a home safety evaluation to assess the person's home, their needs for adaptive devices, for example – grab bars. The therapist will provide a treatment plan to allow the patient to be as independent as possible and remain in their home. Part of the treatment plan will be to address the client's daily activities such as dressing, grooming, toileting and bathing and physical activity. The therapist also considers the client's conditions and provides the following strategies:
Diabetes: Occupational therapy addresses the many aspects of diabetes management that must become daily routines: blood sugar monitoring, hygiene and foot care, meal planning and preparation, healthy coping strategies, and physical activity. Occupational therapy practitioners can also train patients with diabetes to use compensatory strategies for vision, sensory, or motor loss that may interfere with their daily activities (Sokol-McKay, 2011).
Heart failure: Occupational therapy addresses strategies to conserve energy and reduce the demands of activities, while integrating appropriate physical activity and self-monitoring. Occupational therapy practitioners can assist patients to master new activities—daily weights, modified diets—and incorporate these activities into regular routines (Branick, 2003; Norberg, Boman, & Lofgren, 2010).
Chronic obstructive pulmonary disease: Occupational therapy addresses strategies to conserve energy, reduce the demands of activities, and self-monitor to avoid exacerbations. Occupational therapy practitioners can assist patients to incorporate pacing, planning, and stress management into daily activities (Branick, 2003).
Cognitive and behavioral health conditions: Occupational therapy addresses daily routines, medication adherence, self-management, and stress management strategies. With a core knowledge base in psychosocial issues, occupational therapists can also address behavioral health conditions and train caregivers to provide appropriate cues and support to patients with cognitive limitations to optimize performance and reduce agitation or confusion.
The following is a link for a home safety checklist:
https://www.aota.org/~/media/Corporate/Files/Practice/Aging/rebuilding-together/RT-Aging-in-Place-Safe-at-Home-Checklist.pdf
Our Occupational Therapists assess home safety and any need for modifications or adaptive equipment so that an individual may be as independent and safe as possible within their home.  We provide information for home modifications including ramp specifications or lifts within the home.  Occupational Therapists may provide additional community based resources to assist the individual and family with a smooth transition home from hospital or skilled rehabilitation (typically done in conjunction with the Social Worker).
Industrial / Work-related Injuries
Our Occupational Therapy staff have specific training in pediatric development, motor coordination, developmental disabilities, sensory integration disorder and mindfulness techniques specific to children.  We have the capability of evaluating children ages 4-9 years with the SIPT (Sensory Integration and Praxis Tests) developed by the pioneer in sensory integration theory, A. Jean Ayers, PhD, OTR in addition to assessment of basic motor skills, functional adaptive skills and sensory processing.  Our therapy gym provides appropriate stimulation for all areas of childhood development: sensory, motor, visual motor as well as adaptive techniques such as positioning devices to include mobility devices or splinting.
Sports / Orthopedic Injuries
Our OT's work in conjunction with our Physical Therapists to provide rehabilitation following orthopedic procedures such as total hip arthroplasty (THA) and total knee arthroplasty in order to support individuals to return to independent functioning while maintaining the precautions that may accompany surgeries (e.g. persons who have undergone a THA are not allowed to flex at the hips greater than 90°, cross their legs or rotate their surgical leg inward thus making lower body dressing extremely difficult without the use of adaptive dressing devices and training).