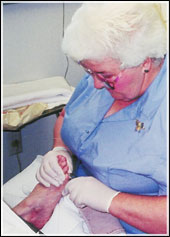 A program co-sponsored by CMMC and the Fergus County Council On Aging. The Foot Clinic offers low cost foot care by a trained nursing staff.
Referrals to Podiatry services are available through this clinic. The Fergus County Council on Aging provides patient pick-up and delivery to the clinic.
Clientele are seen by appointment.