Birthing Room decor, rooming in, and a complete nursery. Cesarean delivery and care is also available.
Complete newborn screening services are provided, including Audiometry testing to confirm normal hearing capacity.
Click to Visit: "Meet the Newborns"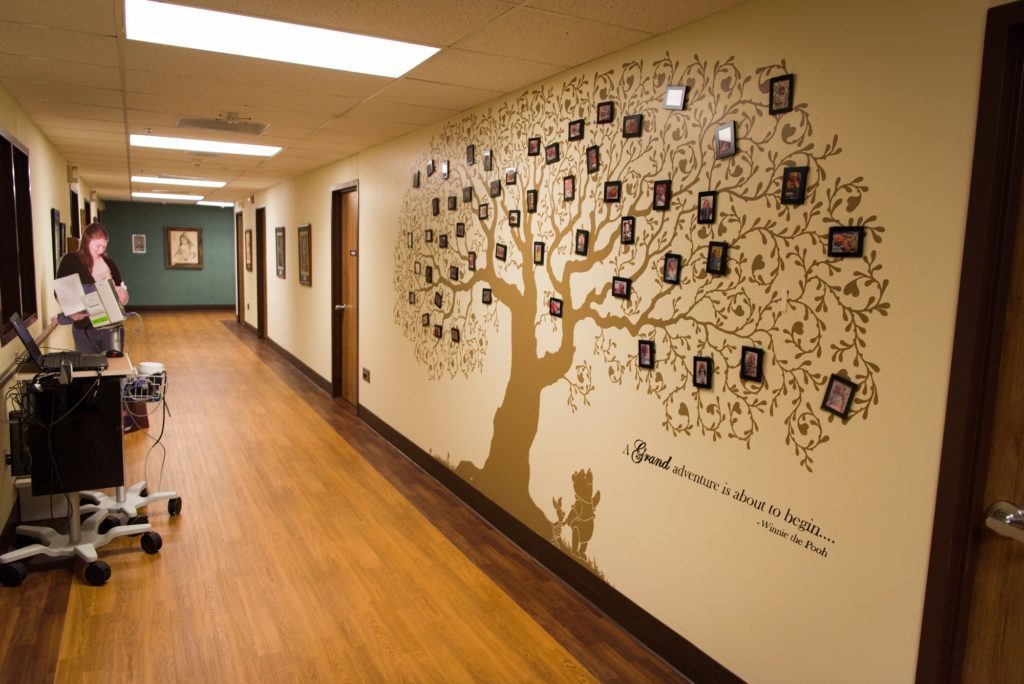 Frequently Asked Questions
What OB Services are available at CMMC?
CMMC has a labor and delivery, postpartum and nursery unit which is fully staffed 24 hours a day, 7 days a week. We are able to provide care to pregnant women, including those with prenatal complications (preterm labor, increased blood pressure, etc.), those having a vaginal delivery or scheduled or emergency c- sections. We provide postpartum care for new moms. CMMC has a Level I nursery, but do provide some services that Level II nursery's provide such as the ability to manage newborns with minor breathing problems, feeding difficulties, or newborns that may require IV antibiotics. This is done in consult with Neonatologists in Great Falls or Billings. Transport to those facilities is arranged if necessary.
What physicians in Lewistown provide OB services?
There are four Family Practice Physicians who provide OB services: Dr. Simpson., Dr. Marchion, Dr. Lopez and Dr. Williams.  Dr Simpson and Dr. Williams are at CHC, phone # 535-6545. 
Perinatologists from Billings and Great Falls are consulted regularly as deemed necessary by your primary physician.
Are childbirth classes available?
Prenatal Classes:
Free of charge! and integrated into their prenatal appointments, scheduled through their primary physician office.  Their physician and clinic staff can help with answering questions and scheduling these visits.  Classes are taught by RN's and MD's with various guest speakers.
Classes are taught by CMMC OB nurses with discussions on topics such as stages of labor, delivery, and postpartum care as well as breastfeeding and newborn care.
Drop In & Latch On Meetings:
Are you an expectant mom?
Are you a breastfeeding mom?
Are you a mom with breastfeeding experience who would like to share her knowledge and expertise with other breastfeeding moms?
The Drop In and Latch On Group provides an opportunity to gather; with the guidance of a Certified Lactation Specialist, to share stories and offer support to each other in a warm, nurturing, and baby-friendly environment.  This group is very active on Facebook.
Meetings are scheduled through the Facebook group.
Contact the OB Department at 535-6286
Breastfeeding education and support is also available by Certified Lactation Consultants.
What is available for pain management during labor?
We encourage all  mothers-to-be to ask questions of their provider regarding pain management options during labor.  . Let your nurse know if you desire pain medication. All pain medications need a physician order so your nurse will need to contact your physician if you desire pain medications. Pain management can include pain medication given to you in your IV or intrathecal narcotic pain medication. An injection of a narcotic is done with an epidural. Nitrous oxide is also offered as an option for pain control. Ask your physician or nurse for more information.
What should I bring to the hospital?
Here is what we provide:
Large insulated mug for ice water
Toothbrush and toothpaste
Comb
Lotion
Kotex pads
Disposable stretch underwear to hold pads in place
Cleansing squirt bottle
Nightgowns & bathrobes while here
Diapers/clothes for baby while here
You will need to bring shampoo and conditioner, going home clothes for you and the baby, baby blankets, infant car seat and any personal items you may want. DON"T FORGET your camera. Remember though, no videotaping is allowed during the actual delivery (per hospital policy), however, you are more than welcome to tape before and after. Record those once in a lifetime moments!
Who can visit while we are in the hospital?
During COVID there are no visitors allowed to the OB department.  There is 1 support person allowed to be with the mother during labor, delivery and postpartum, but restricted to just the 1 support person during their entire stay
Hospital visiting hours are 11:00 a.m. to 8:00 p.m with exception during our "Shh…Nap Time" program. So our mom's can rest, we have limited visitation hours from 1:00 p.m to 3:00 p.m. each day. We require that all visitors check in at the OB Nurse's Station before visiting OB patients. We also ask that visitors not visit if they are ill or have ill children. Children may visit if they are not sick. The father of the baby or Mom's support person may visit at anytime. Father's may stay all night if desired. Check with the nurse.  The unit is locked at all times.  Visitors may be allowed access by the OB nurse if the visitor is on the approved visitor list given to staff by the patient.  Only those that the patient has specified will be allowed to visit in the OB Department.
What training/experience do the OB Staff have?
All are NRP (Neonatal Resuscitation Program) certified, Electronic Fetal Monitoring Certified, and have completed STABLE (Stabilization of newborn for transport) certification. All staff must also have CPR certification.
How do you provide security against infant abduction?
CMMC has an infant security system in operation at all times. Other security measures are also taken. Your nurse will visit with you about this when you are admitted.  The OB unit is completely locked from entry at all times, unless approved visitation from the patient.
Can I have my baby in my room with me all the time?
YES!!  Rooming-in is encouraged as a necessary step to bonding with your new baby as well as enabling you to be successful when you go home.  All services for your baby including weights, baths, and all tests well be done in your room with you there to comfort your baby.
What if I have questions about myself or my baby after I go home?
Give us a call at 535-6286 anytime, day or night. Someone is always available to answer your questions and help you through the wonderful new experience.
Note: The CMMC OB Department is Baby Friendly Designated, which is a nation wide program advocating breastfeeding as the best care practice for newborns. This program also advocates rooming-in and immediate and frequent skin to skin contact with your baby.